Dallas, Fort Worth Singing Telegram
Singing Telegrams are the perfect way to show someone you care.  It can be a Chicken Delivering a special message to your loved one, or a Male Ballerina Dancing into a restaurant to create a memory that will last forever.  We have many Characters and entertainers that will come up with the perfect routine to have everyone laughing!  From a Big Baby that will make any Baby Shower unforgettable or a man in a French Maid Costume to help clean up a messy situation, we have the perfect character for your event! 
Valentine's Day (or any Day) Cupid Deliveries!!
There is not a better (or more embarrassing) way to say you love someone than to send our Cupid! We have HUGE demand for our very funny Cupid Deliveries so book know!  Our middle-aged Cupid will show up and find your loved one, dance around them and delivery a special gift and message to them.  They will never forget this!   
We Serve ALL of DFW! Call 817-601-5666 
We have AWESOME Talent!! Our Messengers are the very best performers, professional actors.  We will make your special occasion one that will be remembered and talked about for days. Characters include Gorilla, Hairy Fairy, Chicken, Male Ballerina, Cupid, Nagging Mother, Western Cowgirl, Big Baby, Hairy French Maid and many more!
"It was Great!  Thanks!  People are still talking about the chicken.  LOL."
"We nearly lost it when the 'ballerina' came into the restaurant!!  He has to be the funniest thing I have ever seen. Thank you so much, everyone had a great time and we will not forget it!"
"She LOVED it! Thank you for making her birthday special!!" 
Contact us today to schedule Dallas, Fort Worth's silliest and Best Singing gram! OTHER CHARACTERS TOO!! Scroll down or just Call 817-601-5666 and we will find the PERFECT Character for your event.  This will be the highlight of the day for everyone involved.  Call us today 817-601-5666 to schedule the Best Singing Telegram in DFW!  Or email us Events@MystiAllen.com 
(other characters available-Chicken, Gorilla, Male Ballerina, Big Baby, More! Scroll Down)
" It was fantastic!  I would give him a 10 definitely and will recommend him to everyone I know.  Thank you so much"
DFW Funniest Chicken Singing Telegram: Our professional entertainer will come to your location clucking and crowing like a chicken and deliver a personalized message.  The Chicken will make sure to get the receipent involved in action, teaching him/her to be a chicken and of course how to do the chicken dance!!  Call 817-601-5666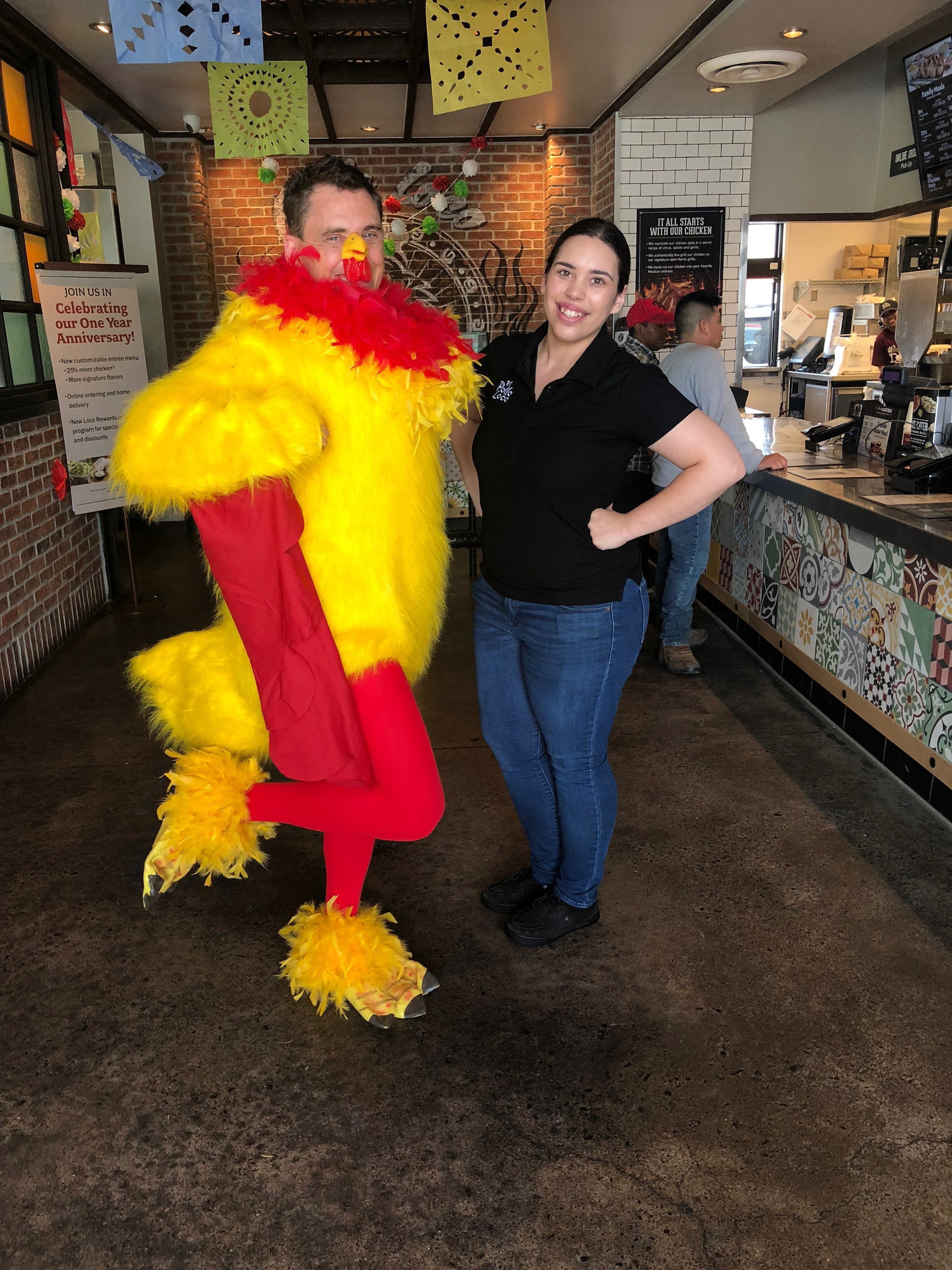 Funniest Chicken Singing Telegram in DFW
We have the by far the silliest and most entertaining Chicken in the Dallas, Fort Worth area!  If you are looking to bring some excitement and fun to your office, library, or school, there is no better entertainer in DFW.
He can deliver donuts, balloon or other gifts and teach everyone how to cluck and crow like a chicken, along with showing everyone how to do the Chicken Dance.
"the chicken was soooo much fun"         "It was very well done, cute, and funny, Thank you!!
"We had the chicken come on our boss's birthday and he was terrific, we would recommend him to anyone!! Thank you again!!"
"You can't help but laugh when you see the chicken man come in!  He was AWESOME"
"The Chicken was a HUGE hit! He got everyone involved and taught our entire preschool how to be a chicken, Thanks!!"
Contact us today to schedule a visit from DFW's funniest Chicken! 817-601-5666 or email us Events@MystiAllen.com.
@MystiAllenTalent for all of your entertainment needs.
"I would give the whole experience a 10. He was on time, very professional, got the crowd going, and made it special for my husband.  HIGHLY RECOMMENDED"
Call 817-601-5666 and ask for our Singing Telegram Package!!
Send a Gorilla in a Pink Tutu to make them have a wonder day. Our Professional Entertainer will show up and monkey around with your target. Activities can range from funny to embarrassing depending on what you want. Call us today to schedule an appearance, 817-601-5666 or email us Events@MystiAllen.com.  Our Gorilla Singing Telegram is a Classic.  The Gorilla will make a big entrance and have everyone on their toes as we get down to Monkey Business. 
Embarrassing Male Ballerina Singagram Will Have Everyone Laughing
Our actor will arrive in tights and a pink tutu dancing to ballet music until he located his target.  Once he finds the target, our ballerina will jump into his routine and have your loved one on their toes, dancing and training for the big finale.  Of course we will make sure everyone has a great time and pictures are taken to remember the experience.  This is the MOST visually embarrassing scene and will have everyone laughing.  Our Fat Man in Pink Tutu Telegram is the perfect way to tell someone Happy Birthday!  This Hairy Fairy Telegram is the perfect way to embarrass or have some fun with your loved one.     
OTHER CHARACTERS!!! JUST CALL 817-601-5666
"It was hilarious and got everyone's attention who was in the area. My husband is a good sport and went along with it, although I get the sense I will be paid back somehow when my birthday comes around. ;-)"
How to order a singing gram in DFW?  You just pick up the phone and we will set everything up. Birthday Singing Grams are a great way to make the day truly memorable!  Our Chicken singing gram is so funny, the male ballerina singing birthday gram will have you dancing with delight. Call us to day to ask how we can help with your next singing gram, some call it singagram which is short for singing telegram.  Other Characters are available!!